Latest News
Girls triumphant in the Harlequins Curtain Raiser Cup!
Posted on: 19/03/2018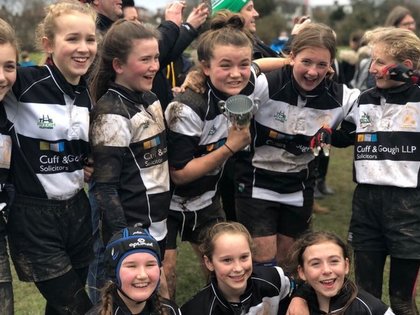 Last weekend three girls from Blenheim High School played for their club, Sutton & Epsom RFC, in the U13s Harlequins Curtain Raiser Cup and won!
The Curtain Raiser Cup is a competition that's been run at Quins for tens of years. The U13s team, including Rosie, Ava and Lyra from Blenheim, faced the Surrey, Kent and Middlesex Cup Winners all in one competition!
First up were Quins Amateurs, the girls got some fantastic continuity in their game as a result of offloads and finding space extremely well. The defence matched giving them a solid 10-0 win before a further 15-5 win (vs Camberley) and 20-5 win (vs Grey Court School) to give them a high seeding in the quarter finals.
The Quarter Finals saw them play Camberley again with the girls playing confidently in the opening seconds, a convincing 15-0 win saw them go into the Semis. This is where the games took a huge step up in terms of physicality. After some ambiguity over U13s and Handing Off, the girls played phenomenally running out 15-5 winners over a very strong Grasshoppers team - onto the Final!
The girls got off to a great start against Aylesford & Horsham, with a fantastic try from Scarlett in the corner. Ten minute games meant that everything happened very quickly. The U13s defended amazingly all day and this continued despite playing against girls who were very well drilled. Aylesford made it over twice and the team were 10-5 down with minutes to go! The girls battled on and levelled it up with 2 minutes to play. The nerves were building and the girls were camped in the Aylesford half before a try from Lyra in the final play led them to win the Harlequins Cup!
A huge well done to all of the girl and the Sutton & Epsom RFC!
The Sutton & Epsom RFC are currently looking for new players - if you are interested in joining please email Sam Phillips.