Latest News
Blenheim pupils scoop two awards at the Epsom and Ewell Sports awards
Posted on: 04/10/2017
Last night Blenheim High School students achieved two awards at the prestigious Epsom and Ewell Sports awards, held at the Epsom Racecourse. Tyri won the Young Sports Personality of the Year Award for his outstanding work in athletics. The Young Team of the Year Award went to the Blenheim U13 Girls Football team for their tireless efforts and achievements in the Sport.
As the Head of PE I am immensely proud of everyone involved and would like to wish them every success in the future and also thank all of the students for their effort, commitment and overwhelming enthusiasm for their fields.
Here's why I nominated these students for these very special awards -
Tyri's nomination
Tyri has always been a promising athlete throughout his time at Blenheim, he has represented the school and central surrey numerous times and holds a lot of school records. However he has excelled himself this year, whilst also studying for his A levels.

Prior to 2016 Tyri had always focussed on sprint distances in his athletics but a chance meeting with a hurdling coach (his current coach) on the Epsom track led him to try the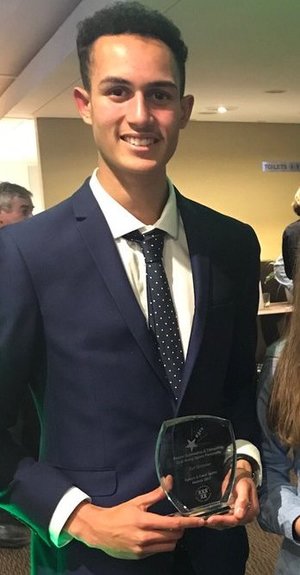 400m hurdles for the first time. By the end of the season he had run the 49th fastest time by a British national that year and was suitably hooked on the event. Tyri has gone from strength to strength this year in 400m hurdling which is why I wish to nominate him.

Over the course of the 2016-2017 season Tyri has propelled himself forward in the event dropping a couple of seconds on his pb and now commands the 19th fastest time this year by a British national, rising 30 places in the power of 10 rankings in just over a year. During the summer of 2017, Tyri also won a bronze medal in the England under 20 Athletics championships despite only being 18 and competing against older individuals. He also was part of the Surrey Athletics squad that took part in the 2017 English Schools Athletics Championships. Whilst proudly wearing his Surrey vest, Tyri finished 3rd in the U19 400m Hurdles winning another bronze medal and lots of points for Surrey.
His performances throughout the summer led Tyri to be selected to represent England South at the Welsh u20 outdoor international event in July, where he actually won the event. This great rise in the the rankings and brilliant performances are not the only reason that I'm nominating Tyri - its also about what he has given back to our school.
A measure of this student is that within 24 hours of winning the Welsh event, and whilst his peers were off on holidays celebrating the end of their A levels, Tyri handed out medals at the Blenheim High School Sports Day, inspiring the whole school with his achievements. So many of the Blenheim student population couldn't wait to have their photo taken with Tyri (donning his England Vest) or just be around him during his 1hr visit that turned into a 4 hour stay! He is a truly selfless individual, who has had a fantastic year in his sport, representing himself, Blenheim, Surrey and England, and being that he is so new to his event, I believe we will be hearing his name in athletics for years to come.
The U13 Girls' Football Team nomination
I wish to nominate Blenheim U13 Girls Football team for the AFC Ewell Young team of the Year award. Despite there being no actual Surrey U13 Girls Football Schools competition to take part in, I fully believe that this group of Year 8 and Year 7 girls from Blenheim High School are worthy of this award and fully embrace the Sport England slogan of ThisGirlCan. This group of students have also shown significant development over the year as at U12 level we had very little success in 2015-2016.

In this academic year though, with the help of only one Year 9 player, the Blenheim U13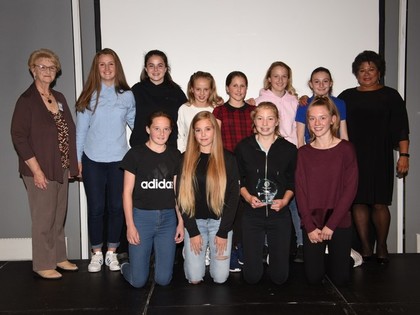 team got to the final of the Surrey Schools U14 Girls football 11-a-side competition. In doing so they beat numerous schools teams comprising of mostly Year 9 students, doing so by banding together to become an effective team highly supportive of each other.

In addition to this the players from our U13 team competed in the Surrey Schools 6-a-side U14 and U12 competitions run by Active Surrey as part of the Sainsbury's school games. They not only won the Epsom Schools competition (North Surrey) but went onto win both age groups in the district finals held at Surrey Sports Park. This was a phenomenal achievement defeating the best schools from the other district areas of Surrey. However this isn't the only reason that I'm nominating the U13's.

In November, we entered the girls into a competition run by Fulham Football club to find a school who could represent Fulham in the U13 Kinder+Sport EFL Girls Cup, which was a national competition comprising of all the English Football league clubs. This competition only runs in that age group as it is targeted by the football league to develop Girls' football. Blenheim U13's not only won the the event (against 10 other schools) but won all games without conceding a goal.
They then went on to represent Fulham in the regional round held at Millwall, and competed against school teams representing other football league clubs such as Leyton Orient, Charlton, Millwall and Brentford. Blenheim did Fulha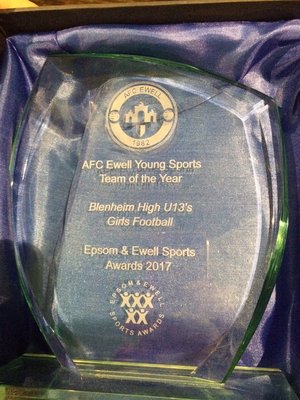 m proud by again, not conceding a goal, but missed out on reaching the South Area finals by losing in the final to a penalty shoot out (against a team they had beaten going into group stage). The girls were amazing credits to Blenheim and Fulham and their success sparked lots of Blenheim girls wanting to do football at the school. Girls football is now on the curriculum!

This is not where the success ends as in January the Blenheim U13 team entered a competition run by Chelsea FC to find an U13 girls team to represent Chelsea in the Premier League for Schools finals in May. This is a competition which nationally involves over 1000 schools culminating in 20 schools representing each of the 20 premier league clubs at a national final. Blenheim won the first event held at the Cobham training centre and then won a further event against schools representing all the other Chelsea academy centres. This meant that the blenheim students got to represent Chelsea at the national finals which were held at Stamford Bridge.
The Blenheim U13 girls had an amazing day at these finals which rounded off their impressive season perfectly. Not only did they get to wear and keep the Chelsea kit with their names on it, run out onto the pitch through the players tunnel but got to have pictures taken with the Premier League Trophy (Chelsea had won the premier league a couple of days before). They also got to play, score and perform great saves actually on the Stamford Bridge pitch, which is a dream come true to any aspiring football player. The girls also performed exceptionally well. Competing against schools representing other premier league teams, they won 3 out of 4 matches, only losing to the eventual winners Chesterfield School representing Liverpool 1-0. Chesterfield as it turned out were the reigning National Schools U13 Girls Football Champions (a competition we didn't enter) and beat all other schools much more comfortably so Blenheim went out of the competition proud of their achievement and individually inspired to play again in 40'000 seater stadiums!

The success has been great this year but also the girls commitment to weekly training sessions in all weathers and their commitment to each other, so they didn't let each other down, has been overwhelming. Their success has been fantastic and more special as some of the students were not even playing regular football before this year. As mentioned before this U13 team is made up of Year 8 and Year 7 students, with the Year 8's really guiding the younger students as positive role models and so through this team, the students have forged positive relationships across years which will help them as they develop through the school. I certainly feel that their achievements are worthy of recognition and hope that the selection committee also agree.
They did!
Well done to everyone from a very proud Mr Morgan.