Latest News
Happy Biology Week!
Posted on: 13/10/2017
Biology Week is coming to an end but students and staff alike have had a fantastic week of Biology themed activities. It has been a great chance for students to showcase great cross-curricular work in Biology, Art, Food Technology as well as other departments. Blenheim is registered with the Royal Society of Biology for events happening during the week and the highlights are below!
Monday 9th Oct - Biology Teacher fancy dress
Tuesday 10th Oct - KS3, KS4, KS5 Form time quizzes
Wednesday 11th Oct-#BioArtAttacks - students were encouraged to create Art work in lessons to cover topics, that are inspired by Biology (collages or models, sculptures or animations. They used sticks, leaves and recycled items
Thursday 12th Oct - Favourite Mammal Poll
Friday 13th Oct - #PhysiologyFriday with #Biobakes. Students produced a bake, savoury or sweet, representing physiology - the science of how the body works. Our favorite was this heart cake!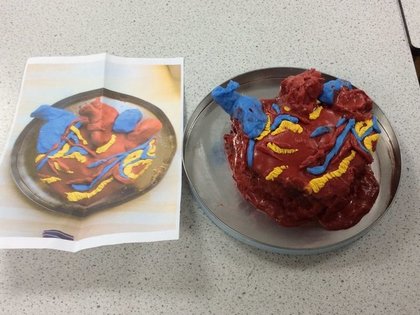 Still to come
In addition to the amazing activites that have been happening at school our Year 13 students are going to Burford Spur, Boxhill on Monday 16th Oct, fieldwork sampling to investigate the effect of trampling on plant species, for their practical endorsement.
We also have a trip on 7th Dec to 'ALevelScienceLive', London - a conference where students can meet TV Science professionals and attend fun Science seminars with examiners.
Happy Biology Week!