Latest News
Multiple Karate Successes for Louise!
Posted on: 03/11/2017
Our very own karate kid Louise has achieved multiple successes in Karate over the last year including qualifying for the Nationals!
Throughout this year, Louise has managed to hold onto her title as regional champion in every tournament for Kumite, a title she has held nationally for the last 2 years, and has consistently gained gold and silver medals throughout the year for her Kata.
In the international external tournament in Sardinia (she placed silver for Kata), she had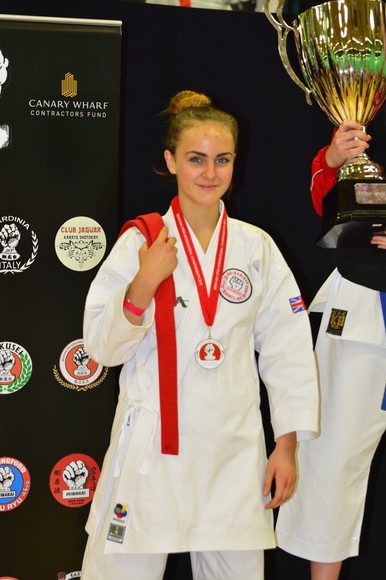 been mistaken in translation for a 'Louis', and was placed in the male category. Even when given the option to opt out, she continued to fight the males in her category, and still came home with a gold medal. This therefore makes her the international champion of the male's 4th Kyu and above division!
She currently holds the titles of UK Regional Champion, UK National Champion, And International Champion for her division - wow!
Due to her successes this year, Louise was selected by her squad coach to attend a training camp hosted by five times World Champion, Junior Lefevre, and George Tzanos, currently ranked third in the world. Her trip spanned 3 days at Junior's Champion's Dojo in Liege, Belgium.
On her return Louise went straight to Reading for the National qualifiers (her category being female's 3rd Kyu and above) and she placed gold for Kata, Silver for Team Kata and Bronze for Kumite. This means that she will be going to the National Finals in two weeks time to fight to retain her title - we wish her every success and watch this space for more updates!