Wellbeing and Mental Health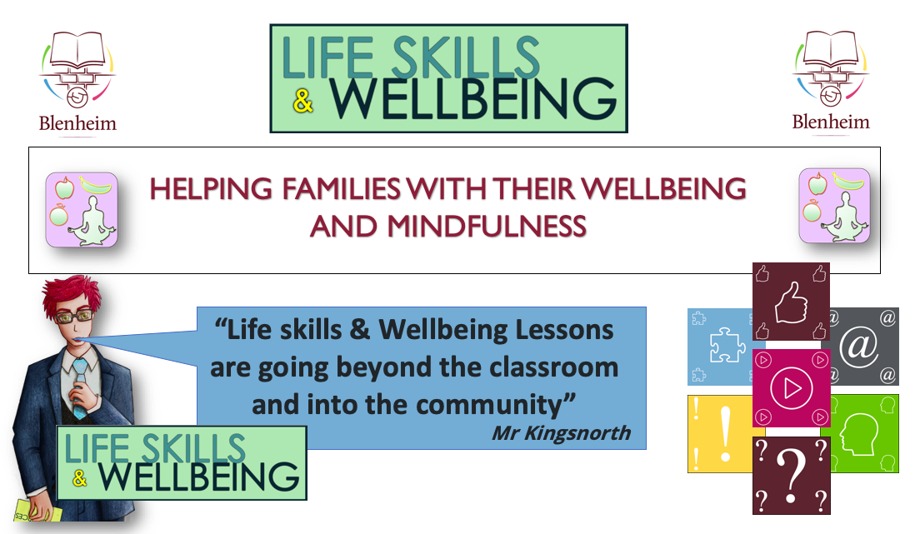 Wellbeing and mental health is hugely important during this challenging and uncertain time.
On the links below you will find several resources to help you and your family with anxiety, stress and the challenges that arise from 'social distancing' during our school closure.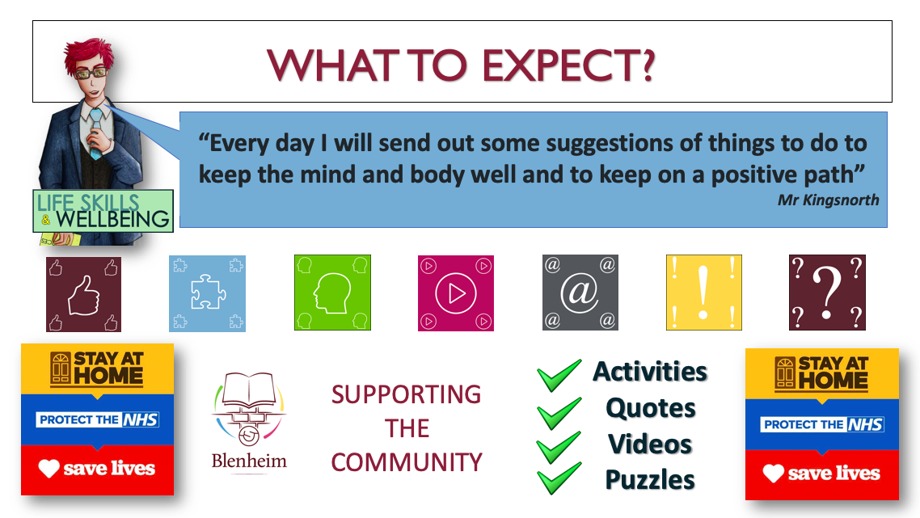 We have published a 60 day Wellbeing Challenge for you to take part in with lots of ideas on how to use your time positively over the weeks to come. Alongside this we will be publishing a daily activity sheet for you to download and complete at home.
If you have any questions regarding the wellbeing of you or your children during the school closure please do not hesitate to get in touch.
Email Mr Kingsnorth, Head of Life Skills and Wellbeing
Email Mr Mundy, Assistant Headteacher, Designated Safeguarding Lead
Daily Activity Sheets
60 Day Wellbeing Challenge!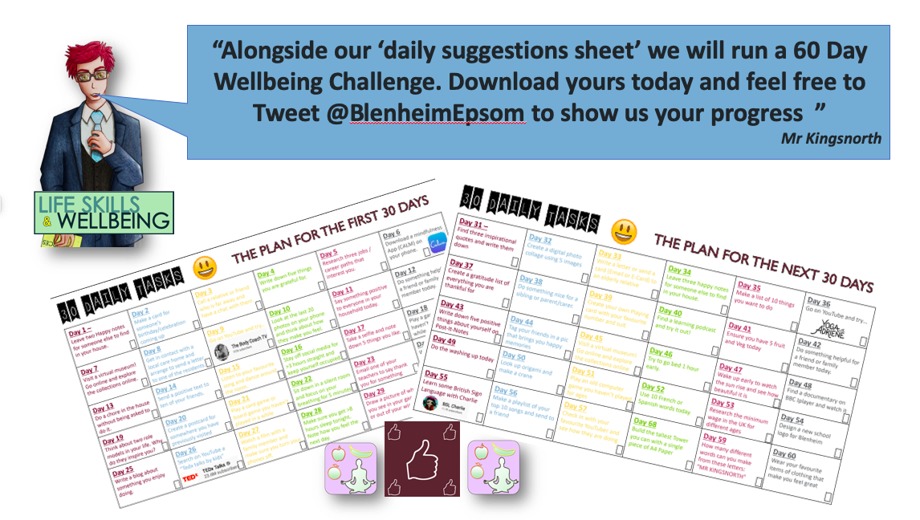 Please download the 60 Day Wellbeing Challenge below!
Wellbeing Resources
Blenheim Guides and Top Tips
Top Tips for Postive Wellbeing
A Guide to Coping with Anxiety
Tips for getting a good night's sleep
Coping strategies for mental health
A useful guide for coping with school closure
Useful Websites and Contacts
KOOTH
Kooth offers a free, safe and anonymous online counselling service to all young people.
Monday to Friday : 12pm – 10pm
Saturday to Sunday : 6pm – 10pm

CHILDLINE
Get help and advice about a wide range of issues by either calling Childline or visiting their website. Childline deals with any issue which causes distress or concern, common issues dealt with include child abuse, bullying, mental illness, parental separation or divorce, teenage pregnancy, substance misuse, neglect, and psychological abuse. Call them on
0800 1111, talk to a counsellor online, send Childline an email or post on the message boards.

NSPCC
As well as their nationwide services like Childline and the NSPCC Helpline, they also work directly with children and families at their service centres. They provide therapeutic services to help children move on from abuse and support parents and families in caring for their children.
Call or email: help@nspcc.org.uk
0808 800 5000

Young Minds
The UK's leading charity fighting for children and young people's mental health. They aim to make sure all young people get the best possible mental health support and have the resilience to overcome life's challenges.