High Performers' Programme
Welcome
At Blenheim, all our students are equally different and have a wide range of interests, skills and abilities. Each student is passionate and talented in at least one area of school life and many of our students excel in more than one area.
The primary objective of the High Performers' Programme is to provide an extra-curricular platform that encourages high performing students to further develop their characteristics and attributes in those areas of the curriculum, that genuinely interest them and which may, in time, inform their future and career pathways.
In the curriculum, high performing students are already supported and challenged in a number of ways through high quality:
Teaching
Management of student groupings and peer experience
Whole class questioning that facilitates maximum student engagement from high performing students
Mentoring
Stretch and challenge tasks across the curriculum
Careers intervention, both 'in and out' of the classroom
Bespoke tuition through the extended day
Beyond the curriculum, there are a number of extra-curricular clubs including Art, Science, Chess, Dance, Football, Netball, Table Tennis, Choir, Band, Reading, Basketball, Athletics, Technology and SEND, etc.
The High Performers' Programme is an extension of this extra-curricular provision that seeks to develop students' independence, aspiration and ambition through exposure to high quality support and challenge.
High performing students engaged in the programme will also receive high quality careers advice, which will ensure they are well-informed regarding their next steps as they progress through Blenheim into Sixth Form.
If you have any questions regarding our High Performers' Programme please contact the Deputy Headteacher: Raising Standards, Miss S. Mooneegan.
Student Selection
Students are successful in an area of the curriculum when they have a particular aptitude, ability or skill in a subject and they exhibit other more generic qualities such as work ethic, resilience and determination. A combination of these factors, typically, results in students performing at a high level.
Years 8, 9 10 and 11
Students are selected onto the High Performers' Programme in one of two ways:-
1. The 12 highest achievers across the curriculum in each year group at the end of each academic year are selected and remain on the programme for the duration of the academic year. Where necessary, students will be mentored to help ensure they remain motivated through the year.
2. Individual subject departments identify high performing students in their subjects. These students are catered for both within and beyond the curriculum in specific subject areas.
Years 12 and 13
Selection is based on a minimum requirement of AAA predicted grades at A level.
Testimony from Krista, Year 13, Highest Achieving GCSE Student in 2019
From my experience, Blenheim High School has a legacy of supporting all students and encouraging them to work hard and achieve. Throughout my time at Blenheim, within the main school and Sixth Form, the school has provided me and many other students with numerous opportunities to enhance our learning and optimise our potential.
From Year 8 to Year 11, I was afforded several opportunities to extend my learning both inside and outside of the classroom as a high performing student. Within the classroom, high expectations to complete all stretch and challenge tasks were explicit. Outside of the classroom, there were numerous examples of extending my learning such as: competing against other schools in the Maths Challenge, going to The Guardian newspaper HQ for a hands-on experience of journalism and an outing to Cambridge University where professors from a variety of science subjects spoke to us about their research. These opportunities allowed me to have a deeper understanding of the subjects and a developed comprehension about future career choices. My current A level curriculum of Chemistry, Maths and PE, have definitely been influenced and shaped by these informative experiences.
Programme Details
Subject Provision is broken down by year group as detailed below.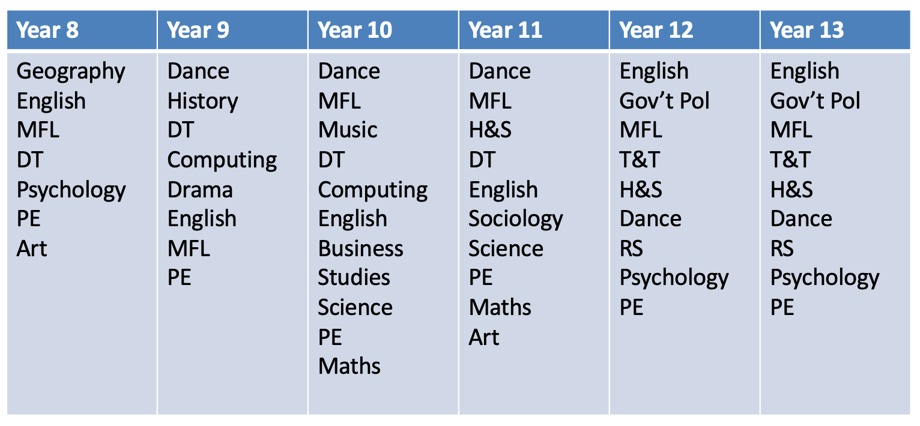 Below are several introductory videos from each of our departments, providing full details of the High Performers' provision in their subject.
Art and Design
Photograms: Year 8
Printmaking: Year 11
Business Studies
Chemistry
Computing and IT
Dance
Drama
Design Technology
English
Geography
Health and Social Care
History
Maths and Further Maths
Music
MFL
Physical Education
Religion, Politics and Ethics
Sociology
Travel and Tourism