Lessons in a Box
Below you can find details of each of our lessons. Please complete a booking form if you wish to borrow a lesson in a box and we will be in touch with a booking confirmation.
Science: Biology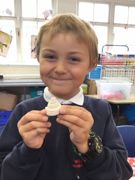 Name of lesson

National primary curriculum objective

Overview of lesson

Equipment received

What the primary school will need to provide

Flower dissection

Identify and describe the functions of different parts of flowering plants

See what different parts are in a flower.

Tweezers, white tiles, hand lenses, sticky-back plastic, A6 card.

Flowers

Skeleton and joints

Identify that humans and some other animals have skeletons and muscles for support, protection and movement

Identify key bones and joints within the human body

Sam our full-size skeleton. Hip joint model, knee joint model. 'Build your own skeleton' kit.

Scissors

Digestive system

Describe the simple functions of the basic parts of the digestive system in humans

Find out what happens to the food you swallow

The model torso. Bowls, bags and a potato masher. Four liquids to represent saliva, acids, enzymes and bile.

Food

Bioviewers

Describe how living things are classified into broad groups according to common observable characteristics and based on similarities and differences, including micro-organisms, plants and animals

Look at plant and animal cells.

Bioviewers, slides of animal and plant cells.

Nothing

Teeth

Identify the different types of teeth in humans and their simple functions

Take a cast of their own teeth using plasticine. Look at the model of the jaw and complete a sheet to find out what is in a tooth.

Red and white brand new plasticine.

Square pieces of card

Human teeth casts

Model tooth

Dental mirrors

1 Bottle of disinfectant

Nothing

Adaptations

Identify how animals and plants are adapted to suit their environment in different ways and that adaptation may lead to evolution.

Discover how the shape of different birds beaks determines their diet.

Petri dishes

Cress seeds mini-screw pots

Tweezers – blunt

Tweezers – sharp

Stopwatches

Nothing

Fossil making

Recognise that living things have changed over time and that fossils provide information about living things that inhabited the Earth millions of years ago

Make their own fossil using the 'mould and cast' or 'imprint' method

Safety Goggles

Fossil moulds

Plasticine and shells

Plastic spoons

Small plastic bags

Plaster of Paris

Yoghurt pots

Newspaper to protect the desks
Soap making

Demonstrate that dissolving, mixing and changes of state are reversible changes

Produce their own soap

Safety goggles

Plastic microwaveable beakers

Glycerine (cut up into small squares)

Glass rods

Soap dyes

Essential oils

Silicone cupcake cases

9cm x 9cm card

Microwaves (as many as you have adults in the room with you).

Weighing scales to weigh 20g

Dried plant material to put into the soap
Science: Chemistry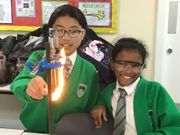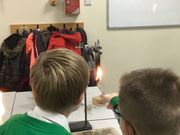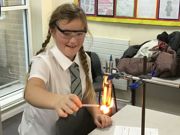 Name of lesson

National primary curriculum objective

Overview of lesson

Equipment received

What the primary school will need to provide

Volcanoes

Explain that some changes result in the formation of new materials, and that this kind of change is not usually reversible, including changes associated with burning and the action of acid on bicarbonate of soda.

Understand the chemical reaction associated with making 'fake lava'.

Safety glasses

1M Ethanoic acid

Sodium Bicarbonate powder

Small plastic teaspoons

Washing up liquid

Plastic pipettes

Glass rods

250ml plastic beakers

Red paint

Film canisters

Paper towels

You can make your own volcanoes from plasticine or papier-mache before using the chemicals to see whose volcano looks the best.

Investigating rocks

Compare and group together different kinds of rocks on the basis of their appearance and simple physical properties

Identify the three types of rock and the properties of each

Safety goggles

2 pots each of small pieces of Limestone, Sandstone, Granite and Slate

Petri dish

Hand lenses

Small sieves

0.5M Hydrochloric acid

Plastic pipettes

Nothing
Science: Physics
Name of lesson

National primary curriculum objective

Overview of lesson

Equipment received

What the primary school will need to provide

Earth and space

Describe the movement of the Earth, and other planets, relative to the Sun in the solar system

Understand how the planets travel around the sun.

Planetarium

Nothing

Forces

Recognise that some mechanisms, including levers, pulleys and gears, allow a smaller force to have a greater effect.

How do levers and pulleys work?

Lever Boards

Pivots

Pieces of Plasticine

100g Masses

10g Masses

100g Hangers

Force Meters (2N)

Pieces of string (with loops either end)

Pulleys

G-Clamp

Clamp stand with Boss and Clamp

30cm rulers

Light

Recognise that light appears to travel in straight lines

Discover how light moves during reflection, dispersion and total internal reflection.

Ray boxes

Grey Power packs

Single Slits

Wide mirrors

Wooden blocks for mirrors

Semi-circular Perspex blocks

60o prisms

A darkened room

Friction

Compare how things move on different surfaces

What is friction and what effect does it have?

Friction blocks with hooks on

100g Weights

2N Newton Metres

4 different types of surface

Nothing

Magnets

Observe how magnets attract or repel each other and attract some materials and not others

Discover the properties of magnets.

Bar magnets

Plotting compasses

20cm String

10cm by 10cm polystyrene square

5cm Iron nails

Sealed iron filings petri dish

Pencils or 30cm rulers to tie the string to

Piles of books to act as a block weight to hold the pencil over the desk, or masking tape.

Objects in the classroom that they can test to see if they are magnetic.
Electricity

Recognise some common conductors and insulators, and associate metals with being good conductors

Use recognised symbols when representing a simple circuit in a diagram.

Discover what materials are conductors and insulators. Students will become confident circuit-builders and learn how to draw a circuit diagram too.

Battery packs and leads

Light bulbs, switches, buzzers

Crocodile clips

Wood strip

Acetate strip

Aluminium strip

Copper strip

Nothing
Technology
Name of lesson

Where it fits into the primary curriculum

Overview of lesson

Equipment received

What the primary school will need to provide

Graphics – Soap-in-a-box (to be completed with the Biology 'Soap-making' lesson)

Select from and use a wider range of tools and equipment to perform practical tasks [for example, cutting, shaping, joining and finishing], accurately

Use your Graphics skills to produce a box to fit your soap in.

Templates

Scissors, glue, (please see science lesson for the soap making requirements)

Textiles – Dog production

Select from and use a wider range of tools and equipment to perform practical tasks [for example, cutting, shaping, joining and finishing], accurately

Become confident in sewing and produce a take-home toy dog.

Felt, templates, thread,

Material-scissors,

Stuffing,

None

Textiles – Bluebird production

Select from and use a wider range of materials and components, including construction materials, textiles and ingredients, according to their functional properties and aesthetic qualities

Become confident in sewing and produce a take-home hanging bird.

This can be altered to be suitable for Christmas as we can provide red and green felt instead of blue.

Felt, templates, thread,

Material-scissors,

Stuffing,

Ribbon,

None
Lessons in a Box Booking Request