Latest News
Cheer on ex-student Nick Gleeson next week at the Beijing Winter Olympics!
Posted on: 10/02/2022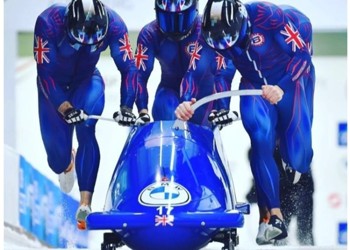 This half term, take some time to cheer on our ex-student Nick Gleeson at the Winter Olympics! Some of the events are also during the daytime so no need to set the alarm clock for the middle of the night!
Nick has been chosen to represent Team GB in both the 2-man and 4-man event and the full schedule of events can be found below.
Monday 14 February
12:05 GMT - 2-Man Run 1
13:40 GMT - 2-Man Run 2
Tuesday 15 February
12:15 GMT - 2-Man Run 3
13:50 GMT - 2-Man Run 4 – MEDALS WINNERS ANNOUNCED
Saturday 19 February
01:30 GMT - 4-Man Run 1
03:05 GMT - 4-Man Run 2
Sunday 20 February
01:30 GMT - 4-Man Run 3
03:20 GMT - 4-Man Run 4 - MEDALS WINNERS ANNOUNCED
About Nick
Serving paratrooper Nick Gleeson became Britain's youngest Olympic bobsledder at PyeongChang 2018.
The Surrey star was 21 years old when he finished 17th as part of Brad Hall's four-man crew alongside Joel Fearon and Greg Cackett and has since played his part in a slew of superb World Cup results.
He helped Hall's four-man team to a fourth-place overall finish in the 2021/22 World Cup and will compete in both that and the two-man discipline at Beijing 2022.
It could have all been so different - Gleeson believed he was trying out for the 3rd Battalion Parachute Regiment's rugby team when he was first introduced to bobsleigh.
About Bobsleigh
Bobsleigh consists of three events in the Olympic Programme; the male four-man and two-man and female two-man. Each event consists of four heats, held on two consecutive days, with the final standings determined by the total time over the four runs.
The first bobsleighs appeared in the last two decades of the 19th Century, courtesy of British sportsmen who were searching for the extreme version of the toboggan. The first "bobs" were built in 1886 and were raced down icy, winding roads.
The sport has been part of the official programme since the first Olympic Winter Games in Chamonix 1924, in which Team GB won a silver medal. The only gold medal to have returned home with a British team came at Innsbruck 1964 in the two-man bob.
We wish Nick and the rest of Team GB the best of luck next week! #TeamGB #TeamBlenheim