Latest News
Blenheim Golf Academy - Launching Easter 2023
Posted on: 24/03/2023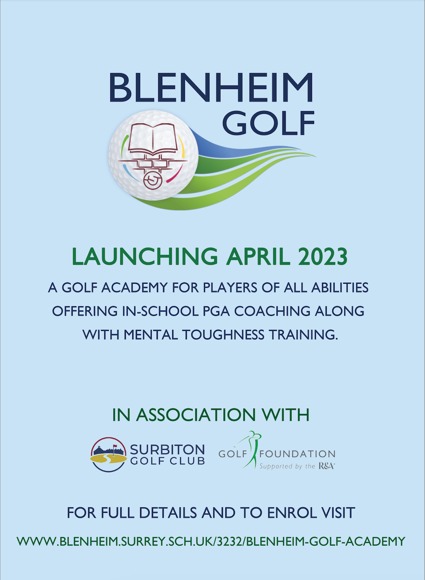 Launching Easter 2023, the Blenheim Golf Academy provides coaching for students of all abilities using state of the art equipment.
Blenheim High School values the benefits of sporting activity on both physical and mental health. Golf is one of the fastest growing sports for young people and the nature of the sport appeals to those who may not choose to participate in more conventional sports.
Blenheim has recently received substantial funding to launch the Blenheim Golf Academy. The equipment purchased includes both lightweight and normal golf clubs and golf balls, Skytrak launch monitor and simulator equipment, driving and chipping nets, putting mats and associated software compatible with iPads.
The Blenheim Golf Academy will be delivered by Blenheim's Physical Education team along with the Head PGA Coach from Surbiton Golf Club, Peter Roberts.
Golf will be introduced into the curriculum from September 2023 using specialised Golfway equipment enabling all students to experience the sport on the school site.
Curriculum teaching will be complemented by a co-curricular club offering golf coaching.
A unique mental toughness programme, 'Unleash your Drive', will be delivered to specific students throughout the year.